[ad_1]

Over the course of four days in downtown Bay City some well-known and some not-so-well known people will have their films shown in traditional and make-shift theaters. Hell's Half Mile Film and Music Festival is back for its 14th run, bringing independent films, a filmmaking contest, and original music to the Great Lakes Bay Region from Sept. 26 to 29.
Movies
Festival Director Alan LaFave said every year filmmakers, directors, actors, producers, and musicians come into town, bringing feature films, documentaries, and short films to screen for local audiences. Venues for the films range from the Historic State Theatre to the Delta College Planetarium to the Bay County Historical Museum. It all begins with an opening reception on Thurs., Sept. 26.
"We like to think that we offer, through the festival itself, a great array of different types of filmmaking and storytelling, so anything from very commercial types of films that may not be able to screen in our area," to dozens of independent films, including documentaries, comedies, and dramas, LaFave said.
This year's festival features nearly 100 films and music events. Well-known actors such as Justin Long and Fran Drescher appear in the film "Safe Spaces." Other films, such as "Lake Michigan Monster – Banned in Four Lakes," and the comedy "Sword of Trust," join a host of feature-length and narrative short films.
The full schedule and link to purchase tickets are available on the Hell's Half Mile Film and Music Festival website.
LaFave said the festival provides opportunities to sit down with the filmmakers, who oftentimes do question and answer sessions with the audience. Some of the guest filmmakers also will host a panel on Sunday Morning at Populace Coffee on State Street.
"I think it adds that much more of a connection for people to the story, when you get to meet a director or an actor, producer, cinematographer, or writer," said LaFave.
He said not only meeting those people, but the festival setting itself changes the way people see the films. "When you go to a regular movie theater, you might go 'That was neat,' 'That was cool,' or 'That was bad,' and you're done with it." He said it's not the same in the festival environment where people continue the conversation about the films long after the closing credits fade.
New to this year's festival is a partnership with the Michigan Film and Digital Media Office and the Film Festival Alliance, which is a national organization of film festivals. Through the partnerships, LaFave invited organizers of other film festivals to visit the Hell's Half Mile event.
"It's basically an opportunity for Michigan film festivals to come together and share best practices," he said. The conference has a greater purpose, though. "(We want) to grow the status and the quality of Michigan film festivals and turn it more into a piece of Michigan tourism as well."
More than a dozen film festivals will be represented at the conference. LaFave sees it as an opportunity to make Michigan film festivals more attractive as venues for both the filmmakers and their audiences.
Although many of the films are made outside of the state of Michigan, there are a handful shot by local filmmakers including some produced by Delta College students and faculty. Last year's addition of the Hell's Half Mile Film Slam gives amateurs a shot at having their work shown on the big screen.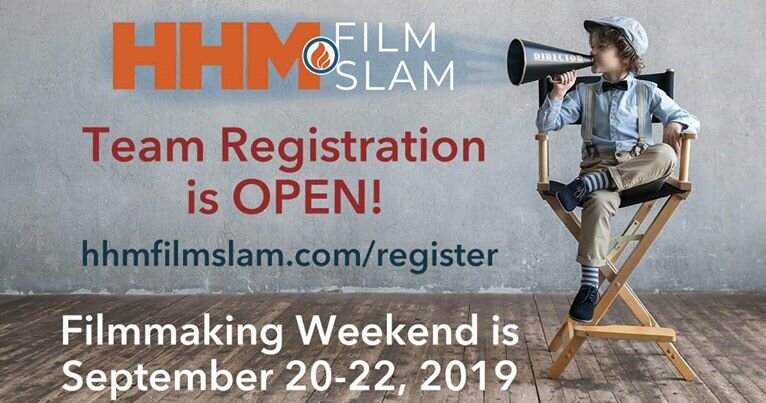 Film Slam
Tammie Stimpfel said she got involved with doing 48-hour film challenges in the Detroit area a few years ago. "I fell in love with the concept that just people that usually don't get to be a part of something like filmmaking, spending a weekend making a film."
After completing several film challenges in the Detroit area, Stimpfel wanted to bring a challenge here. She said she brought the idea to LaFave, who was looking for a way to bring filmmakers into the Bay City. Stimpfel volunteered to run the Hell's Half Mile Film Slam here.
Stimpfel said what she enjoys most about the challenges is the collaborative effort of the teams. "The filmmaking process is the most collaborative art form there is," she said, and includes the cooperation of artists including graphic designers, writers, photographers, and actors. "All these different art forms have to come together to create a film."
The Hell's Half Mile Film Slam takes place the weekend before the festival, Sept. 20-22. The 48-hour Film Slam challenge pits teams against each other to collaborate and produce a film. When the challenge begins, filmmakers learn the genre of their film. They also receive a list of required elements including a character, a prop, and a line of dialogue. The finished movies run anywhere between 4 and 7 minutes.
Stimpfel said she expects between seven and 10 teams to complete. After a weekend of filming, editing, and production, the filmmakers get the chance to have their film shown to local audiences at the State Theatre in downtown Bay City on Sat., Sept. 28.
Visit the Hell's Half Mile Film Slam website for registration forms and more information. The event kicks off from 6 to 7 p.m. Fri., Sept. 20. Films must be submitted by 7 p.m. Sun., Sept. 22.
Music
Musicians from Chicago, Toronto, New York, Cincinnati, and Detroit play at Old City Hall and The Warehouse during the festival. Artists from a variety of different genre, including rock-a-billy, rap and aura-pop round out the events.
This year's program and ticket information can be found online at Hell's Half Mile Film and Music Festival or at the State Theatre box office, 913 Washington Ave. in Bay City.
 


[ad_2]
RELATED PRODUCTS
Loading......