[ad_1]

Scott and Charlene's Wedding followed (not a  real ceremony, although you'd be forgiven for thinking a couple would wed in the ampitheatre, the epicentre of the three-day festival on a farm 95 kilometres west of Melbourne).
The Melbourne indie-rock band was still a typically Meredith change-up, causing a couple of revellers to raise their boots – a salute to one's favourite artist at the festival, meant to be used once but nowadays seen far more often.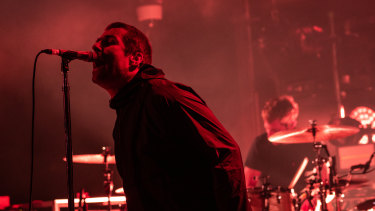 On Friday night Liam Gallagher was on his best behaviour, despite a typically controversial incident this week where he was forced to end his set in Melbourne early.
The former Oasis frontman said little and began with his own music before asking: "I used to be in a band called Oasis. Is it all right if I play some of those tunes?"
Wonderwall followed, bringing much of the sold-out crowd of about 10,000 together, arm in arm.
Conor Andrews, 34, from Melbourne's inner-north, was attending his seventh consecutive Meredith.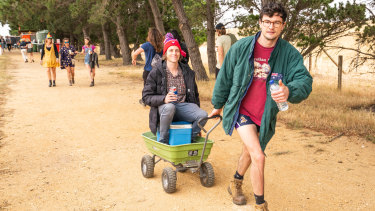 "It's a bit colder than other years, but that brings out the best in us," he saidon Saturday. "Next year's the 30th, so we're keeping it warm enough until then."
Despite the overcast weather revellers came scantily clad, one group dressed in fish net tops with strings of leaves draped over themselves. Another dressed as a rescue boat crew, hi-vis life jackets and helmets firmly attached.
If the trumpets, trombones, tubas and euphoniums of the brass band are the sound synonymous with traditional Meredith, couches are the sight.
The couches are specially-engineered, towed inside in semi-trailers or strapped precariously above sedans. They're adorned with custom-made wood platforms that serve as bars, dining tables and, for some, as power nap pillows.
The true "spirit of Meredith" – inclusiveness, open-mindedness, alternativism – lives inside the fabric of those couches dotted across the Supernatural Ampitheatre.
The tradition of groups of punters happily hopping from one couch to the next once its rightful owners arrive is very much alive.
One team of generous owners even gifted some couch nomads a beer for their troubles on Saturday: "Sorry to do it to you, guys," said one man.
"No dickheads" is the policy, after all.
Michael is a reporter for The Age.
[ad_2]