[ad_1]

Jakartan Bathara Saverigadi turned his repertoire into a short movie comparable to film noir style, featuring his solitude, the unbeknown future and the many roles society expects him to bear.
Titled 23th (23 years old), the performance, which lasts less than 2 minutes, is a clever mix of dance choreography, music and cinematography. 
The combination of gamelan and piano composed by Bagaskoro Putro provide the segue between acts and the camera work by Chikal Mutiara gives dramatic effect to each dance movement.
The dance was among dozens compiled for the 1'59 Project Indonesia, which opened the Indonesian Dance Festival (IDF) 2020 on Nov. 7.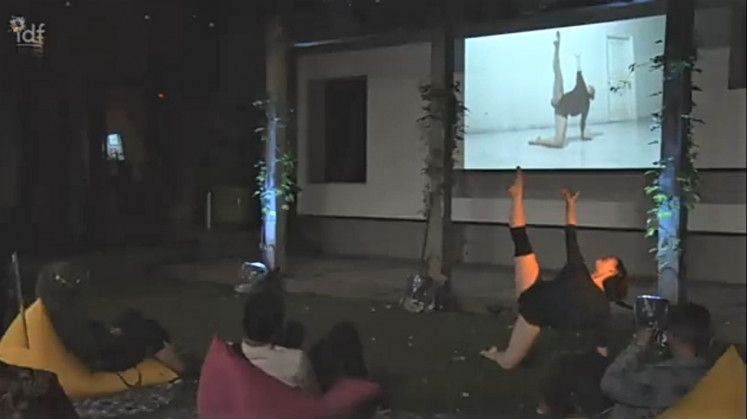 Spacetime: Dancer Kezia Alyssa translates her personal journal into a performance titled 'Day 211', which is included in the 1'59 Project Indonesia. It was performed on the opening night of IDF2020.zip at dia.lo.gue art center in South Jakarta. (JP/Tertiani ZB Simanjuntak )
Led by Korean contemporary dance maestro Ahn Eun-me as artistic director, the project – whose name refers to the acceptable length in this video-sharing time – involves 50 Indonesian dance enthusiasts from different walks of life and ages who have gone through online workshops.
The project also involved French dancer Clint Lutes as artistic and project coordinator and Indonesian Siko Setyanto as a production assistant.
The workshop facilitators who provided guidance for the dancers were Australian Melanie Lane, German Monica Gillette and Indonesians Ismail Basbeth and Ria Papermoon.
The result was a gripping nearly two-hour dance-on-film show that reflected the zeitgeist of Indonesia today. As the video was shot individually and remotely, each has its own personal approach in capturing the dance movements.
The Soul Behind the Mask by Dizah in Kutacane, Aceh, for example, used static shots but the color distortion in the editing process gave an extra dimension to the contemporary dance.
Some used professional cameras, many others used camera phones. There were also videos made using video-generating app TikTok.
The stages could be the living room, the front yard, an abandoned building or unexpected places as shown in A Hope Under the Bed by Aristadewi from Jembrana, Bali.
The themes of the performances were also varied, from the loss of loved ones to gender justice, from cultural diversity to sea pollution – all show the performers' great efforts in finding the artistic and aesthetic form suitable to convey their stories.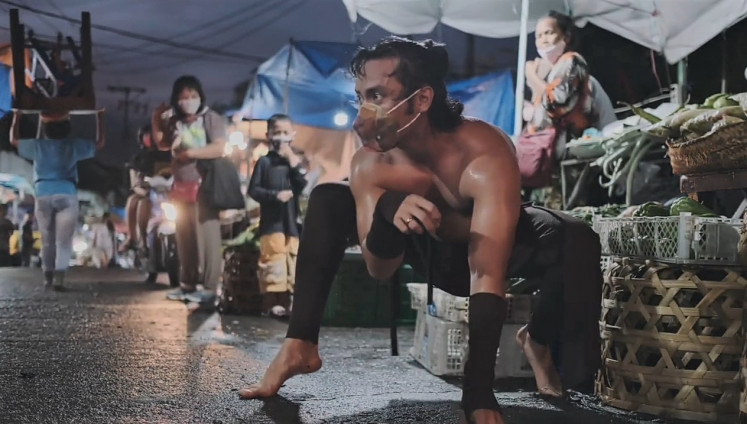 Among us: Balinese dancer I Putu Bagus Bang Sada Graha Saputra performs 'Buron Peken' (Market Animal), mimicking a dog in a wet market and interacting with onlookers. (Courtesy of Indonesian Dance Festival/-)
The biennial dance festival is a successful showcase of the transition from the traditional trapezium stage to direct-to-video performances. 
Taking place entirely on its website and YouTube channel until Nov. 14, except for the opening ceremony which was held at dia.lo.gue art center in Kemang, South Jakarta, the dance festival's main theme is "IDF2020.zip Daya: Cari Cara", which not only describes the online mode it chose this year but is also a testimony to the unlimited creativity and possibilities of performing arts.
"It was undeniably impossible for us to imagine having this performing arts festival online at first, but we refused to stop," said IDF 2020 co-curator Rebecca Kezia at the opening ceremony also attended by co-founders Nungki Kusumastuti, Maria Darmaningsih and Melina Surya Dewi as steering committee members.
"'Daya' in Indonesian has multi-layered meanings, one of which is the ability to endure or the willingness to transform," Rebecca said.
While "cari cara", she said, referred to their effort to find a way "to create programs that not only maximize the online features but also speak of its time, the current situation".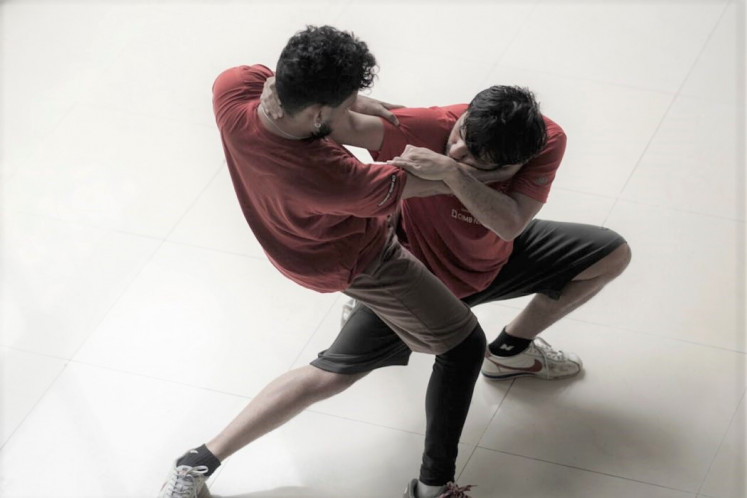 Tug of war: A scene in 'Re-Reading Impact', a dance performance by Irfan Setiawan. The performance, included in the Kampana Performances, came in 360-degree and 2D versions and has been available on YouTube since Tuesday. (Courtesy of Indonesian Dance Festival/–)
The festival programs were tailored to the purpose. Besides the 1'59 Project Indonesia, there will also be participatory performances from collective Gymnastik Emporium and the two winners of the Gymnastik Partisipatori competition that will blur the lines between dance and warmup exercise.
A unique program, Kampana, facilitates six young choreographers in an intensive course. Three of them –
Irfan Setiawan, Puri Senja and Eyi Lesar – presented their works in progress in the Kampana Performances and all participants talked about their creative process in the Kampana Trajectory.
Two public discussions on the actual issues concerning arts and digital presence were held in the zip.Conversations program, presenting global experts from different fields of study as speakers.
IDF2020.zip will close with Li Tu by Ayu Permata Sari, an artistic interpretation of the tunggu tubang concept of the matriarchal Semende culture in South Sumatra, in which firstborn daughters are vital to preserving the family heirlooms.
This celebration has presented pre-festival events since Nov. 2, including public discussions Dance Talks; Bodily Archive, which showcased how dancers Kadek Puspasari and Eko Supriyanto responded to the physical limitations imposed by the pandemic; and Layar Terkembang (Billowing Sails).
The latter was a series of performance videos prepared by choreographers who had taken part in past IDFs, such as Indonesian maestros Retno Maruti, Benny Krisnawardi, Martinus Miroto, French Vincent Mansoe, Indian Padmini Chettur and Mariana Arteaga from Mexico.
Belgian co-curator Arco Renz, speaking through a video call from France on the opening night, said the curatorial process presented the team with new challenges, thus the enormous potential of the digital tools.
"It is clear that [digital tools] will never be able to replace live performing arts. [But] their presence today is already unavoidable and will be even more so in the future.
"We not only have to embrace them, but we have to develop digital media as creative and democratic tools and not allow them to become an instrument of consumption if not addiction and of manipulation," said Renz.
"IDF2020.zip wishes to contribute to this massive challenge through contemporary dance experiences that allow us to connect differently and creatively." (ste)
–Visit indonesiandancefestival.id for more information and program schedules.
Your premium period will expire in 0 day(s)
close x
Subscribe to get unlimited access
Get 50% off now


[ad_2]