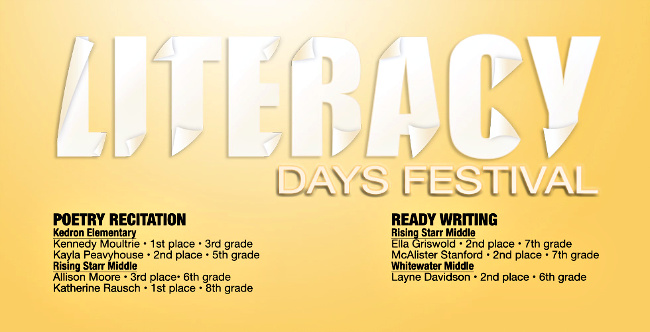 Hours of memorizing lines, practicing voice inflections, and perfecting writing skills paid off for Fayette's elementary and middle school poetry reciters and ready writers at the Griffin RESA Regional Literacy Days Competition.
The students advanced to the regional competition after taking first place honors at the Fayette County Literacy Festival several weeks ago.
Two elementary school students took top honors in the poetry recitation competition for grades 3-5. Kennedy Moultrie of Kedron Elementary School placed first in the third-grade division, and Kayla Peavyhouse of Peeples Elementary placed second in the fifth-grade division.
Five middle school students placed in the top three in their grade levels for poetry recitation and ready writing for grades 6-8.
In poetry recitation, Allison Moore and Katherine Rausch of Rising Starr Middle earned a third-place award in the sixth-grade division and a first-place award in the eighth-grade division, respectively.
Winning awards in ready writing were Rising Starr Middle students Ella Griswold and McAlister Stanford who placed second in the seventh-grade division and first in the eighth-grade division, respectively. Also placing in ready writing was Layne Davidson of Whitewater Middle who took second place in the sixth-grade division.
Poetry reciters are judged on stage presence, articulation, interpretation, difficulty of piece, and memory and accuracy. Students can earn extra points for fluency, gestures, and expression.
Ready writers are given a prompt and are asked to write on the spot without any prior preparation. Students have one hour to complete their piece, which is judged on ideas, organization, and style
The Griffin RESA Regional Literacy Days Festival includes students from the school systems of Butts, Fayette, Henry, Lamar, Newton, Pike, Spalding, and Upson counties.