[ad_1]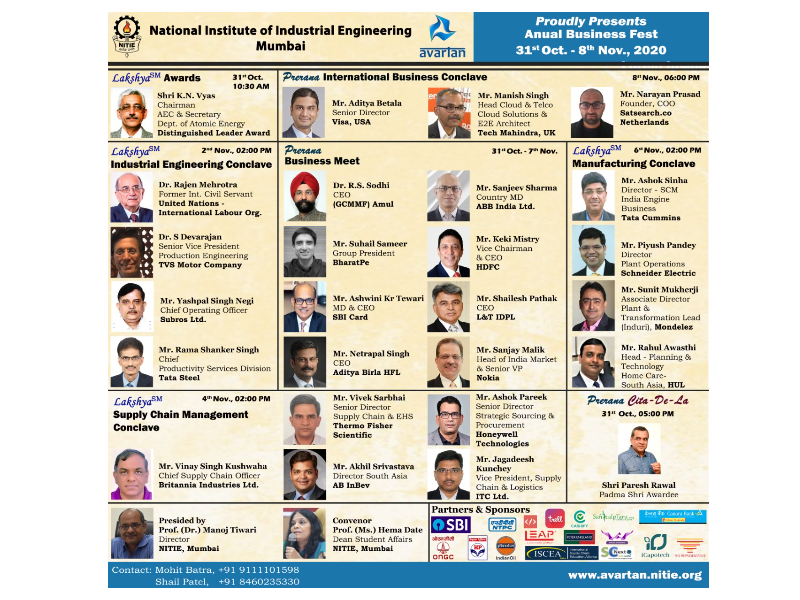 Avartan, the mega Business Festival of National Institute of Industrial Engineering (NITIE), was held from 31st October to 8th November 2020.
With a legacy of 26 years, Avartan has successfully orchestrated corporate excellence with each passing year. Avartan attracts some of the brightest minds among the youths of the nation through a multifaceted event encompassing conclave, business events, and competitions.
This year, Avartan underwent a Digital Transformation with a gamut of events across various domains, and a stellar line up of Corporate Visionaries. Embarking its beginning with NITIE Lakshya Distinguished Leader Awards, which was conferred to Shri. K.N Vyas, Chairman, AEC & Secretary, Department of Atomic Energy. Shri K.N Vyas shared major learnings reflecting to his experiences, research and his Source of inspirations. He expressed his deep sense of gratitude to NITIE Mumbai for conferring the award and praised the institution with his kind words.
NITIE's Prerana Business Meet hosted Dr. R.S Sodhi, Managing Director of AMUL, on the inaugural day of Avartan. Dr. Sodhi in his enlightening words gave valuable insights on Building a Self-Reliant India. Dr. Sodhi also mentioned about NITIE being a dream institute for management gradates & the top-most Industrial Engineering institution in India.
The fest also included an enthralling session Cita De la Prerana, the celebrity talk show event with Padma Shri Mr. Paresh Rawal.
The Avartan basket also encompasses entrepreneurial conclave Empresario and insightful events like the Prerana International Business Conclave, NITIE Annual Business Conclaves covering Supply Chain, Manufacturing and Industrial Engineering domains, Samvaad – the Media Conclave, NITIE Finance Conclave, NITIE Analytics Conclave and many more.
Avartan event was carried out under the leadership of NITIE Director Dr. Manoj Tiwari.
NITIE has earned the reputation of being the facilitator of an enriching platform that fosters engineering brains of the country to the become the best business ones. Armed with exceptional faculty, excellent academic resources, backed up by world-class pedagogy, NITIE provides appropriate platform for students to hone their industrial engineering aptitude, business acumen, value-based leadership as well as their interpersonal skills.
For more information please visit our website: nitie.ac.in
Disclaimer: Content Produced by NITIE


[ad_2]