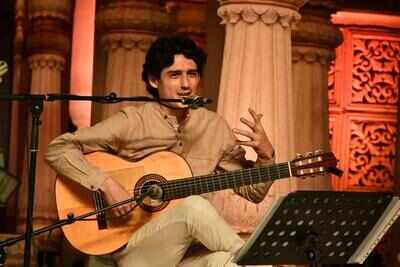 Daniel Rangel performs at the Tansen fest in Gwalior on Sunday
Bhopal: With each passing day, every warp and weft of the ongoing Tansen Festival in Gwalior is attaining greater luminescence, thereby gladdening the souls of music lovers who are watching it live. Sunday turned out to be a treat for all those who are fed on the rich diet of diversity in music.
The morning concert began with mellifluous Dhrupad gayan by students of Shankar Gandharv Sangeet Mahavidyalaya, Gwalior. Santoor recital by Abhay Rustom Sopori and Mohd Amaan Khan's vocals proved beyond doubt that these young artistes have already carved a niche for themselves on this vast Indian classical horizon. Amaan's flawless rendition of Bade Ghulam Ali Khan's famous thumri, Yaad piya ki aaye, floored everyone.
The evening, however, belong to brilliant, young Mexican musician and composer, Daniel Rangel, who mesmerised the audience with flamenco music on his Spanish guitar.
A part of world music category in the fest, Daniel's rendition of Cuban music was equally exhilarating.
Later during the day, classical vocal by Vivek Karmahe and Sur Bahar jugalbandi by father-son duo, Pandit Pushpraj Koshti and Bhushan Koshti, also delighted everyone. Cherry on the cake was Dhananjay Joshi's khayal gayiki.
FacebookTwitterLinkedinEMail