[ad_1]

One of UC Riverside's most iconic landmarks is now part of the City of Riverside's biggest holiday celebration.
An inflatable snow globe with a replica of the bell tower was unveiled last week as one of the attractions at the Riverside Festival of Lights, which kicked off Nov. 28.
UCR wanted to have a bigger presence at the annual event, which attracts more than 750,000 visitors annually, to highlight the campus' presence in the city, said Johnny Cruz, assistant vice chancellor and chief communications officer.
The UC Riverside Snow Globe Experience is a photo-ready, interactive display located on the Main Street promenade between Mission Inn Road and University Avenue. It's free and open to the public for the entirety of the festival, which runs through New Year's Eve.
"What better icon for a UCR-themed experience than to have our bell tower in the middle of it," Cruz said.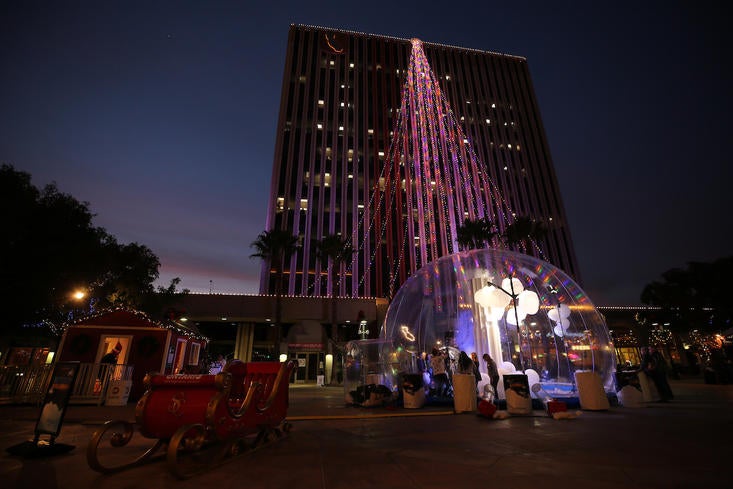 The snow globe is decorated with white clouds and balloons alongside a 15-foot-high model of the bell tower. Visitors can enter through a zipper door and pose for photos inside the plastic globe, which can fit 15 people.
The attraction is part of UCR's Beyond Brilliant campaign profiling UCR staff, students, and alumni whose inspiring personal stories demonstrate how the university contributes to the well-being of California and the world. Some of their stories are included in displays inside the snow globe.
Many visitors will receive printed calendars informing them of upcoming performing arts, film, athletics, and museum events at UCR-supported venues such as the Culver Center of the Arts, the California Museum of Photography, and SRC Arena.
UCR held a reception Dec. 3 at the Culver Center for alumni, donors, parents, and friends who were also given tours of the snow globe.
A booth outside the snow globe will be part of two upcoming events. On Dec. 7, the campus store will have UCR merchandise for sale, and Annual Giving will raise funds for R'Pantry on Dec. 13. Scotty the Bear will be on hand for both dates.
The bell tower replica was built by Stage Monkey, a Riverside company that creates theatrical props. It took a week to construct by hand using a light-weight fiber board wood material, said Jason Graham, co-owner of Stage Monkey. The company matched the color of the bell tower using photographs of the real thing and hand-drilled 4,280 holes, he said.
"We're really happy with the results," he said.
[ad_2]